
FREE SHIPPING
over $50.00

exclusive design
top designer
Description
_Only the head is customized,and the body is made according to the product pictures!
The model online is only for reference, we will replace the doll head with yours, The front photo is the PRIMARY photo our artist will use to sculpt your bobblehead Including the hair and facial expression (smile, frown, smirk, etc). This should be a high-quality photo (selfies not preferred).

_The size is the stature of the person standing from head to toe, isn't the actual height of the person while sitting or lying.
_The Stationary Head can make for any hairstyles,and the Bobble Head only can make short hairstyles.
_This item requires 5-9 business days to handcraft.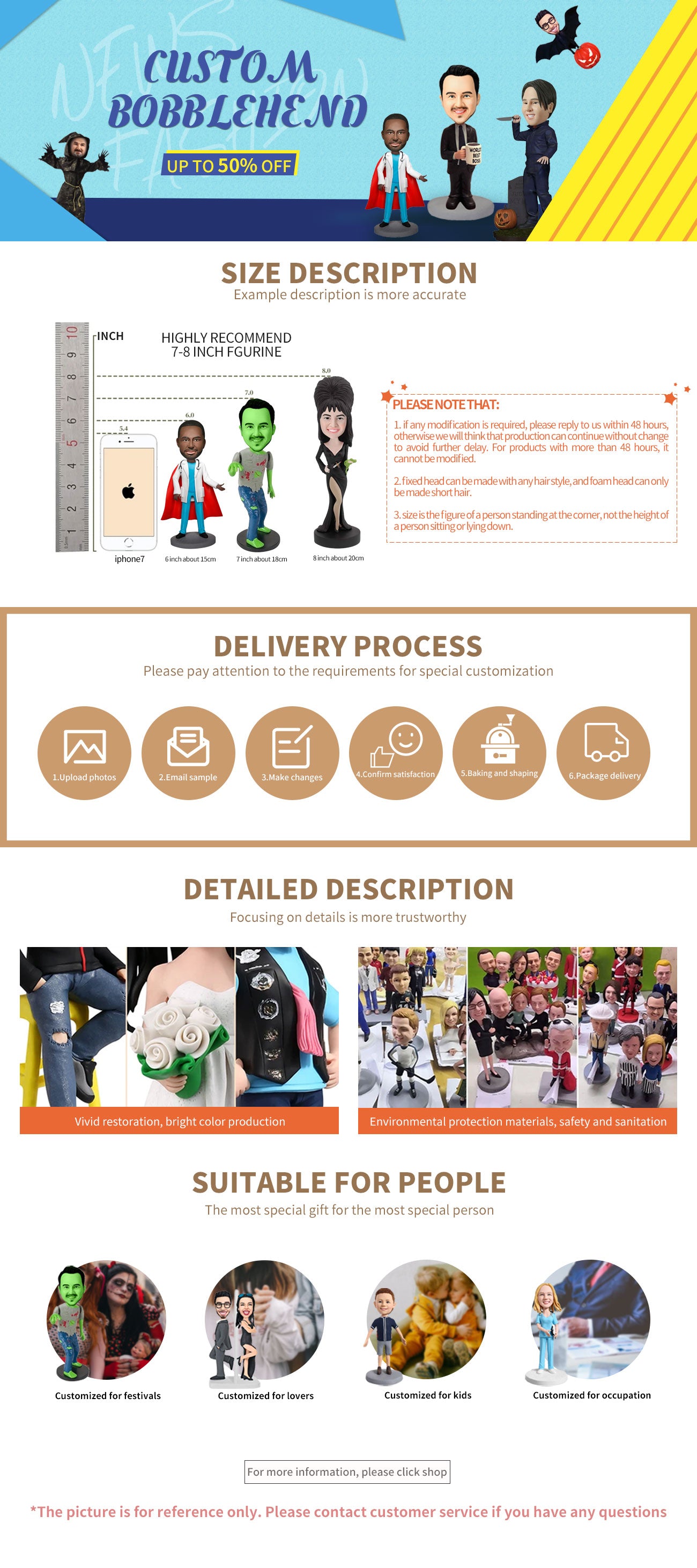 Obviously they are 'imitation' but we don't care for our personal collection. They look VERY well and do look great on the shelve next to all the other ones. HOWEVER: If you are thinking to order them WITH BOX (so that they are SAFELY SHIPPED inside that box: YOU ARE WRONG!): The box will be delivered 'stuffed into the 'plastic bag packaged' folded flat. so you would have to put/fold the box together upon arrival yourself. And considering they are NOT REAL, it doesn't matter (for value) to 'keep them boxed' anyways.. So i would recommend to order them WITHOUT BOX (since they will NOT be in their box anyway while being shipped). So we've wasted around 1 buck (not much though) on a box which won't be used, and did not protected it during shipment either. other than that: Great quality! :)
Achieving is just gorgeous, the seller and very listening to its customers. I recommend strongly.
The figure reached 10 days, packed perfectly everything is whole, the figure is fire!